ARCHAEA
Archaea were only shown to be a separate domain—through analysis of their RNA—in 1977. Many archaea thrive under the extreme conditions of hot sulfur pools or in minerals and rock deep inside the Earth. On the floor of the ocean at thermal vents, lacking both sunlight and oxygen, they obtain energy and nutrients from chemical reactions with energetic molecules emerging from the vents and molecules on the mineral surfaces of rocks.
Las archaeas fueron descriptos como un grupo mediante el análisis de su ARN recién en el año 1977. Muchas archaeas prosperan bajo condiciones extremas en pozos calientes de azufre o dentro de minerales y roca profunda dentro de la tierra. Sobre el suelo del océano al lado de aberturas termales, sin luz del sol ni oxígeno, obtienen energía y alimento mediante reacciones químicas con moléculas energéticas que emergen de las aberturas y moléculas que se encuentran sobre la superficie mineral de las rocas.
back
TOP
Branch:
Methanobacteriales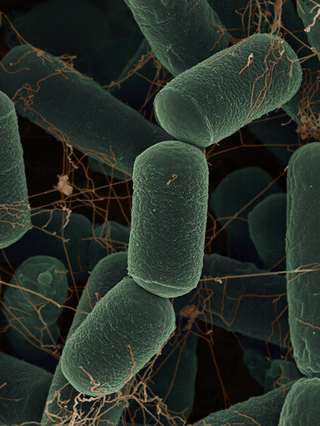 Image copyright Dennis Kunkel Microscopy, Inc.; colorized by Suzi Tucker Design.
Three main groups of hydrogen-consuming microbes make their homes in the human gut where they aid in digestion—turning nutrients into calories. They include acetogens (anaerobic bacteria that generate acetate), sulfate-reducing bacteria, and methogens such as M. Smithii, the most abundant methanogenic archaeon in the human gut and an important player in the digestion of polysaccharides (complex sugars). The build up of hydrogen in the gut reduces the efficiency of the digestive process; M. Smithii and other methangenic archaea help to remove excess hydrogen. Studying these microbes is helping researchers understand how hydrogen metabolism affects the digestion of various dietary components. Targeting M. Smithii could lead to new treatments for obesity and anorexia.
*Note: not all branches are shown in the tree diagram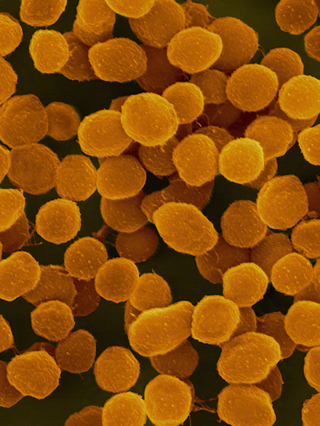 Image copyright Dennis Kunkel Microscopy, Inc.
Methanococcus jannaschii (also known as Methanocaldococcus jannaschii) was discovered living in the extremely hot and oxygen-deprived waters at the base of a white smoker chimney in the deep ocean, and was the first archaeon to have its genome fully sequenced. The majority of its genes related to energy production, cell division, and metabolism were found to be most similar to those found in bacteria, while those related to transcription, translation, and replication were found to be most similar to those found in eukaryota. Methanococcus is a genus of methanogens, or methane producers. Methanogens are extremely important in environments that are anaerobic (lacking oxygen) because as they convert organic compounds into methane they provide pathways for compounds that exist in anaerobic environments to escape into the atmosphere. Methanococcus jannaschii produces many unique cofactors, coenzymes, and enzymes during methanogenesis—macromolecules that could be valuable in biotechnology applications.
*Note: not all branches are shown in the tree diagram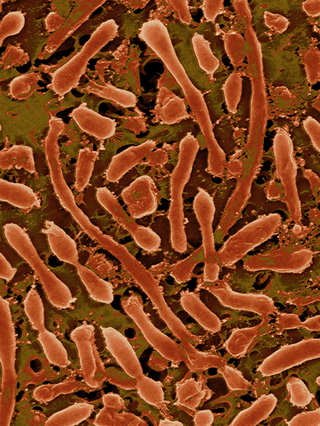 Image copyright Dennis Kunkel Microscopy, Inc.
This extremophile of unknown genus (likely, Halomicrobium sp. or Halobacterium sp.) was found growing at high salinity (2.5 times the concentrations in normal sea water). It is an example of dramatic variations in the size or shape of the cell called pleomorphism. Halobacteriales are an order of the Halobacteria found in water saturated or nearly saturated with salt and are common wherever large amounts of salt, moisture, and organic material are found. Halobacteria require oxygen and are incapable of fixing carbon from carbon dioxide but can survive in salty environments because of their unique way of creating energy through photosynthesis that is different from other forms of photosynthesis that use chlorophyll. Large halobacteria blooms appear reddish, from the pigment bacteriorhodopsin. This pigment is used to absorb light, which provides energy to create ATP. A second pigment, halorhodopsin, is used to pump in chloride ions in response to photons, thereby creating a voltage gradient and assisting in the production of energy from light.
*Note: not all branches are shown in the tree diagram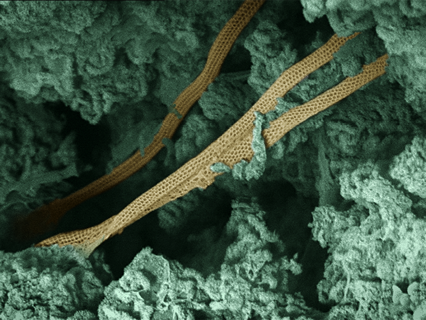 P. Boston
Who are they? Are they Archaeal ancestors? No one knows. In a Scanning Electron Micrograph (SEM) image, these mysterious reticulated filaments look like fishnet stockings. They have been nicknamed "microcholla" because their appearance also recalls the dried remains of dead cholla cactus branches that are found scattered across the landscape of the American Southwest. Fuzzy-looking actinobacteria are in the background. These organisms from Maelstrom Lavatube in Hawaii are found growing in a blue-green copper mineral (hydrated copper silicate) called chrysocolla.
*Note: not all branches are shown in the tree diagram